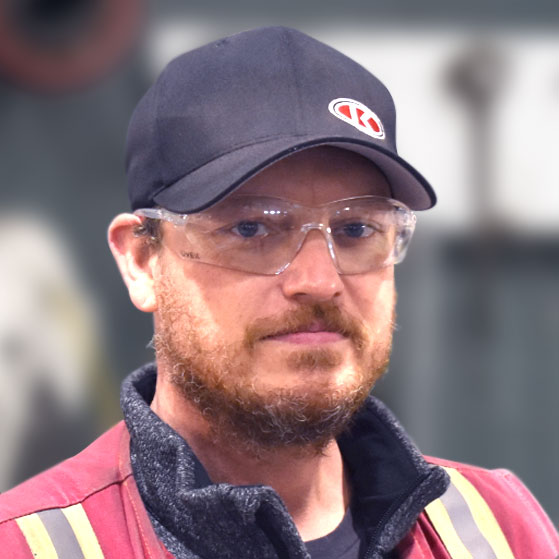 By Michael Kellner
Maintenance Manager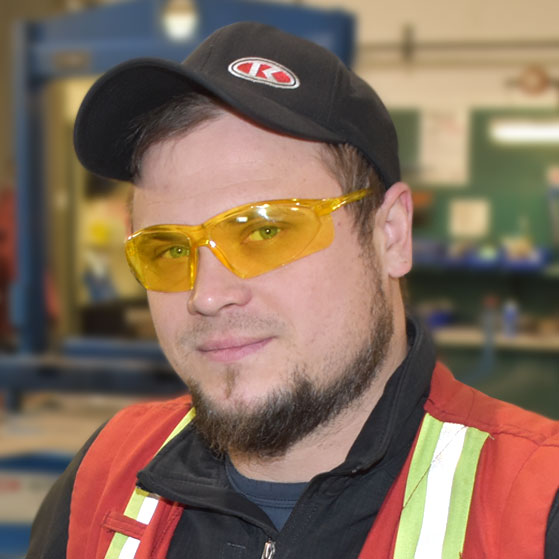 Ivan Mospak
Lead Heavy Duty Mechanic

Proper, regular maintenance will keep your pumps running well, and for a long time
At Ketek, our skilled service team is here to support all of your needs. Electric submersible pumps are one of the many products we specialize in.
Servicing Electric Submersible Pumps
Ketek offers service contracts for all types of submersible pumps, tailoring your contract to suit your individual operational requirements to maximise pump life-time and efficiency.
Our skilled technicians provide a full-service inspection and testing including:
Initial visual inspections
Working tests
System adjustment for maximum efficiency
Electrical and mechanical safety checks
Provide full service overhaul
Pump repairs
Ketek also services vertical turbine pumps
Here, Ketek removed, repaired and reinstalled a 75-foot-tall vertical turbine pump at the Dickson Dam west of Red Deer, Alberta
With more than 40 years of experience maintaining, repairing and servicing submersible pumps, our skilled service division is the ideal choice for all your submersible pump repairs. Our team can carry out pump repairs in our repair facility.
Full FLYGT approved pump repair facility
Highly skilled team of repair technicians who can carry out repairs
Collection and delivery services
Full inspection and estimate before repairs are started
Electrical and mechanical testing on all pumps prior to return
Pump servicing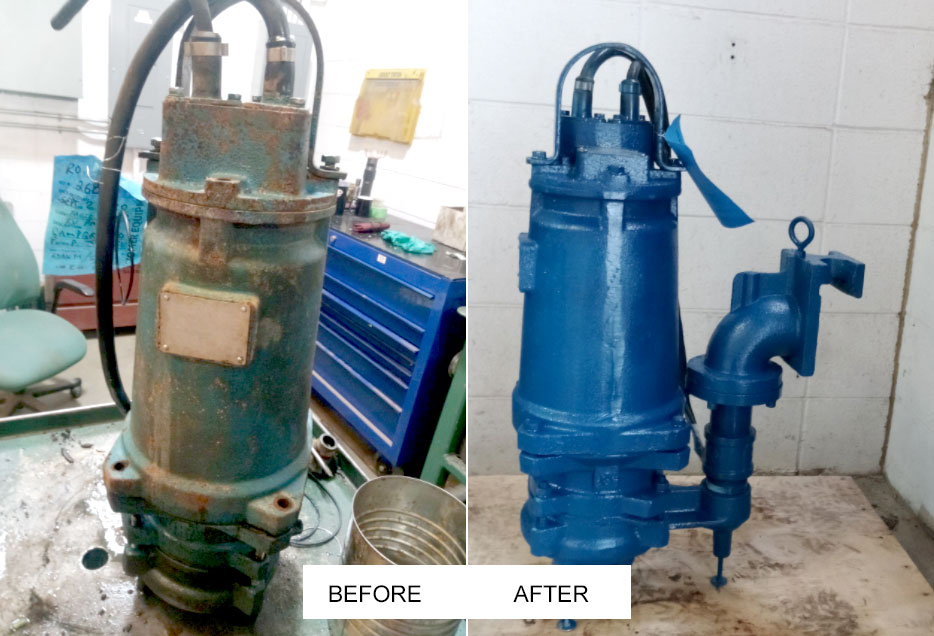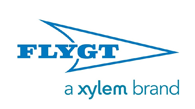 Regular service of your pump assets increases their lifespan while maximising efficiency and reliability. Ketek operates its own fleet of pumps and we see the daily benefits of regular service. Skilled technicians are able to provide efficient servicing on many brands of submersible pumps including the popular Flygt pumps, for which we are a certified distributor and repair shop.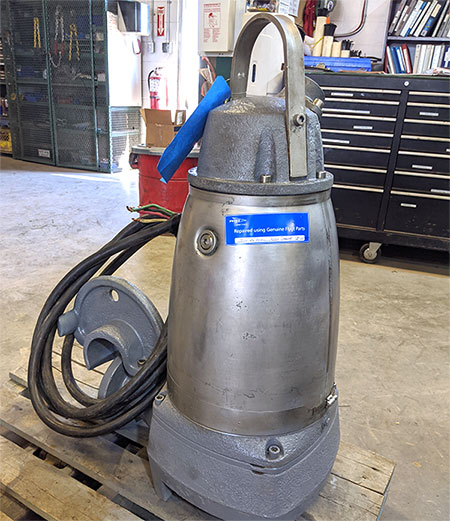 Here are some tips that can help you maintain the health of your submersible water pump and increase its lifespan:
Observe Maintenance Frequency
Keep a regular check on the pump's water leaks, unusual sounds, vibrations, etc. This will help you evaluate the frequency with which your submersible pump requires maintenance.
Lubrication
Lubricate your water pumps and motors as per the guidelines set by the manufacturer. Also, it is important to make sure that you do not over-lubricate them. Over greasing results in bearing damage. If the bearing has a vent cap, remove the cap and run the pump for 30 minutes, before re-installing the pump.
Avoid Overheating
Overheating happens due to the insufficient water level in the well that cools submersible water pumps. Also, the same thing happens when the pump fails. To avoid costly repairs, it is recommended to check the heating level frequently.
Flush Pump After Use
In submersible pumps, the clearance between the impeller and diffuser is to manufacturer's specs. Also, the pressure and flow rates are high in these pumps. To avoid dirt under the impeller, a clean water flush is necessary.
Motor Inspection
As motors are an important part of the submersible water pump, it is necessary to check motors too. For this, make sure that all terminations are tight. Also, check the starter or contractor for overheating and arcing. Prevent motor and windings from dust and dirt.
Frequent Inspection
People generally tend to ignore the care and maintenance of submersible pumps. They often go for quite a long time without being seen. For their optimal performance and longevity, they need to be inspected frequently. By frequent observation, we can determine the condition of water leaks, electrical wiring, valves, and seals. Thus, it's important to do a constant check of pumps.
Replace Damaged Seals and Hoses
If there is damage or wear to hoses or seals, replace them to prevent leaks, safety hazards or further damage to the pump.
Have questions?
Our staff of service technicians and pumping technicians is made up of experts experienced in helping our customers choose and maintain the equipment that's right for them. If you have any questions or need support for your pumps or generators, please give us a call at 780 447-5050 or send us an inquiry at info@ketek.ca.