Services
Custom Fabrication
Ketek's fabrication team can make just about anything, from the simplest of truck boxes to multi-million-dollar design and build units that meet any client requirements
Ketek's fabrication division has a long history of building products for our in-house needs, from hose reels and truck boxes to large, sophisticated incinerators and water management units. But we also work for external clients, and are ready to partner with you on your project, large or small. Our team includes skilled draftsmen, engineers and tradespeople who can combine multiple talents to ensure the job runs smoothly. We have the ability and equipment to tackle projects large and small, simple and sophisticated, and have our own sandblasting and painting facilities to help provide an all-in-one solution.
As part of our ISO 9001 certification, all accompanying quality and technical documentation can be supplied for the manufacturing process.
When people think about Ketek, they likely think about a provider of oilfield services, perhaps, or of water-pumping expertise, or of our rental equipment. But Ketek is, in fact, much more than even the sum of those parts (as you can tell from surfing this website).
Areas of expertise include
Watch as we design and build one of our CY-2000 Cyclonator incinerators ►
We have a 7,700-sq-ft, CWB-certified manufacturing shop where we cut, form, fit and weld carbon steel, stainless steel and aluminium. From gauge material to heavy duty sections and plate. We have a 5,000-sq-ft sandblasting bay and a 1,200-sq-ft, air-pressurized painting and curing booth. All three facilities fall within Ketek's ISO 9001 certification, and they give us the coordinated capability to make your fabrication needs a reality.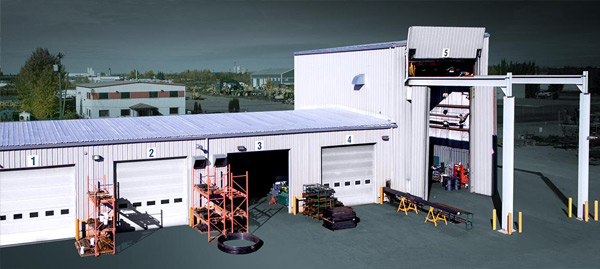 Welding – F.C.A.W, G.M.A.W, S.M.A.W & G.T.A.W
Capabilities to weld carbon steel, stainless steel and aluminum
Fitting, torch/plasma cutting, drilling, punching, forming, braking, rolling and cutting of parts
Engineering and inspection of parts and assemblies
Modifications and repairs to existing equipment
CWB 47.1 certified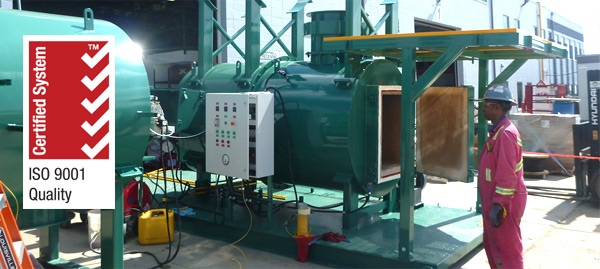 Design and drafting: Using 3D drafting software, our draftsmen offer all design, engineering and drafting services
CWB-certified fabrication shop
Metal fitting and welding
Electrical instrumentation wiring and assembly
Prefabricated building construction and renovation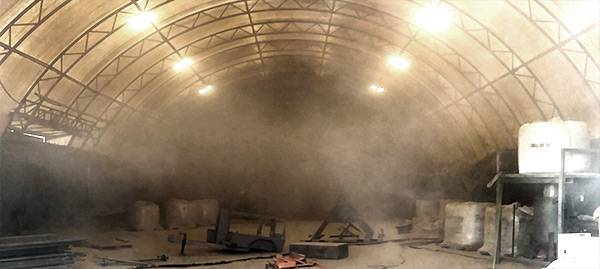 5,000 sq.ft blast bay
Ability to use various blast medias
Blast profiles from commercial through to industrial grade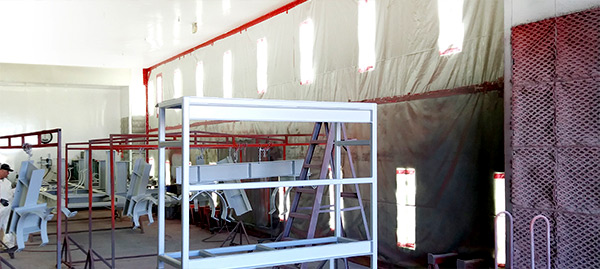 Dedicated 1,200 sq.ft air-pressurized paint/curing booth
Commercial or industrial grade paint and application
Epoxys, urethanes and specialized coatings
Custom colour matching, multi-colour, priming and masking
Ketek uses Green Diamond Abrasive Grits, which are high-efficiency blasting grits prepared by selective screening of nickel slag. It is an ideal product for the efficient removal of mill scale, rust or existing coatings from steel and other metals in preparation for fabrication or painting. Importantly, using Green Diamond means there is no free silica, a substance that can cause problems for human health and the environment.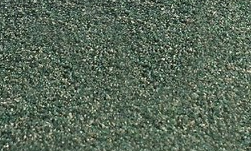 Green Diamond is the most cost-effective, best profiling, consistent and environmentally friendly abrasive blast media in the industry.
Our Certifications and Capabilities
CWB-certified to CSA W47.1, W59 & AWS D1.3.
Welding processes include FCAW/MCAW/GMAW, SMAW & GTAW for low carbon steel
GMAW & GTAW as well as Pulse GMAW for the welding of aluminum
FCAW, GMAW & GTAW for the welding of stainless steel
Plasma arc cutting (PAC) used for the cutting of various types of metal as well as oxy-acetylene cutting (OAC) for the cutting of low carbon steel
We are constantly adding to and upgrading our fabrication equipment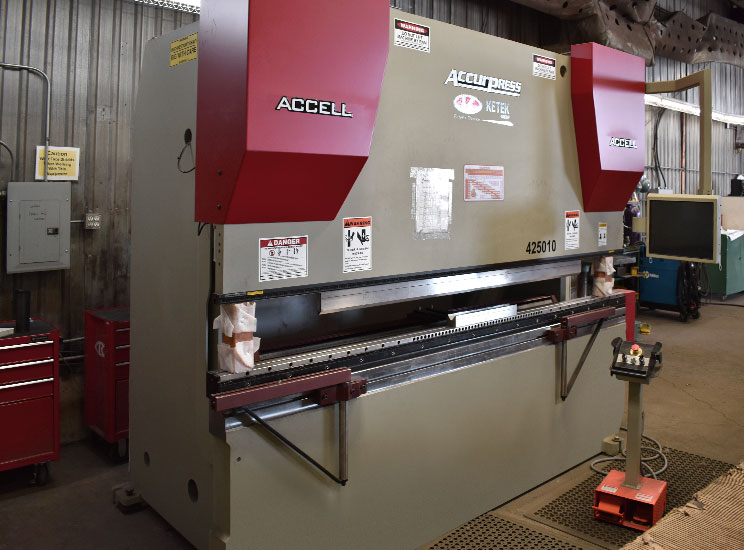 250-Ton Precision Brake Press
Capable of forming 10' long gauge sheets and up to 10' long ¼" thick steel plate
Equipped with a Premium Back Gauge with powered X-axis (horizontal)
R-axis (vertical), plus Z1/Z2-axis (left-right finger) control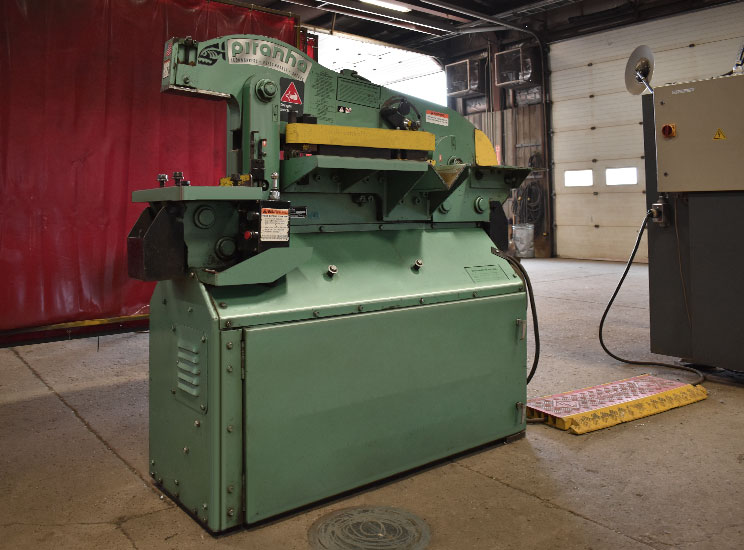 50-Ton Ironworker
Equipped with flat bar shear, angle iron shear, notching shear and various other attachments capable of braking and punching holes and slots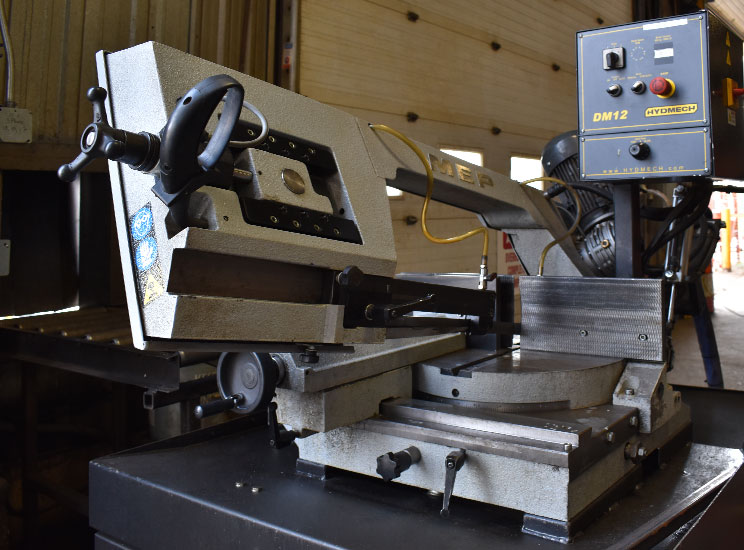 10" Horizontal Bandsaw
A 10" double mitre saw that is capable of cutting 30/45 degrees on most materials up to 10" high by 10" wide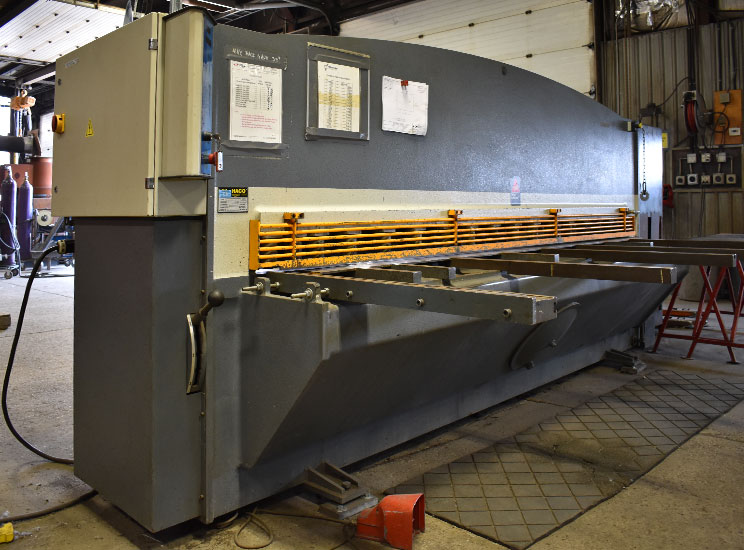 10′ Shear Machine
Capable of shearing up to 10′ x 1/4″ steel or aluminum plate.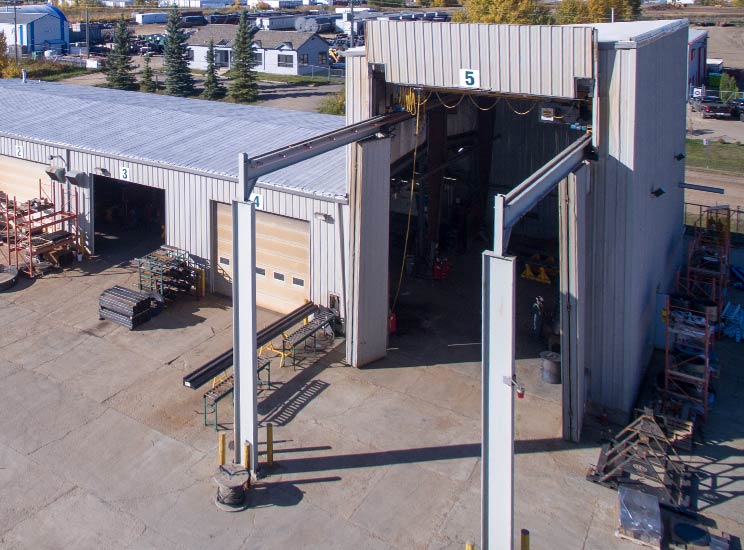 7.5-Ton Cranes
The shop is also equipped with two 7.5-ton bridge cranes, which are used to facilitate the fabrication of large projects.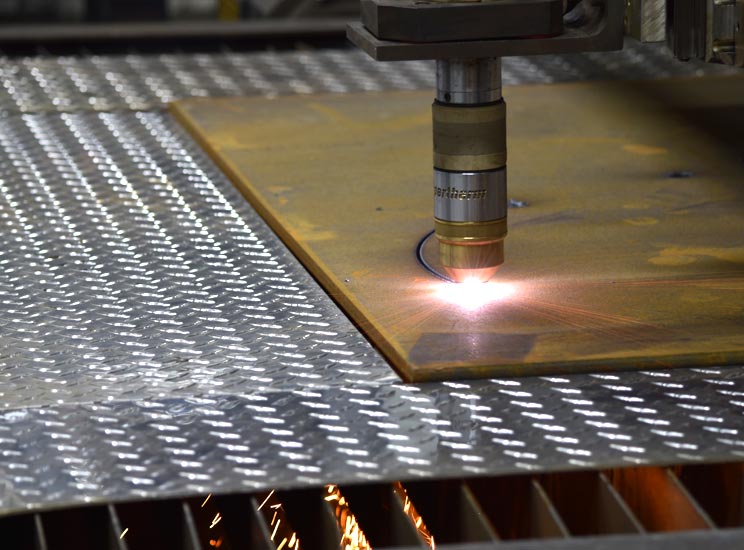 MultiCam 3000 Plasma Cutter
Plasma arc cutting for various types of metal.
Our fabrication shop can build just about anything you can dream up
Line crossings
LED light stands
Hose reels
Electrical cabinets
Truck bodies, aprons and sides
Headache racks
Fire pits
Trailers
Custom signage
Promotional items
Ladders, railings and platforms
Drip trays
Well covers
Catwalks and handrails
Housings for load banks
Toolboxes
Misc. custom brackets, pipe supports