Welcome to
Ketek – Edmonton
Ketek's Head Office and Edmonton Operations Centre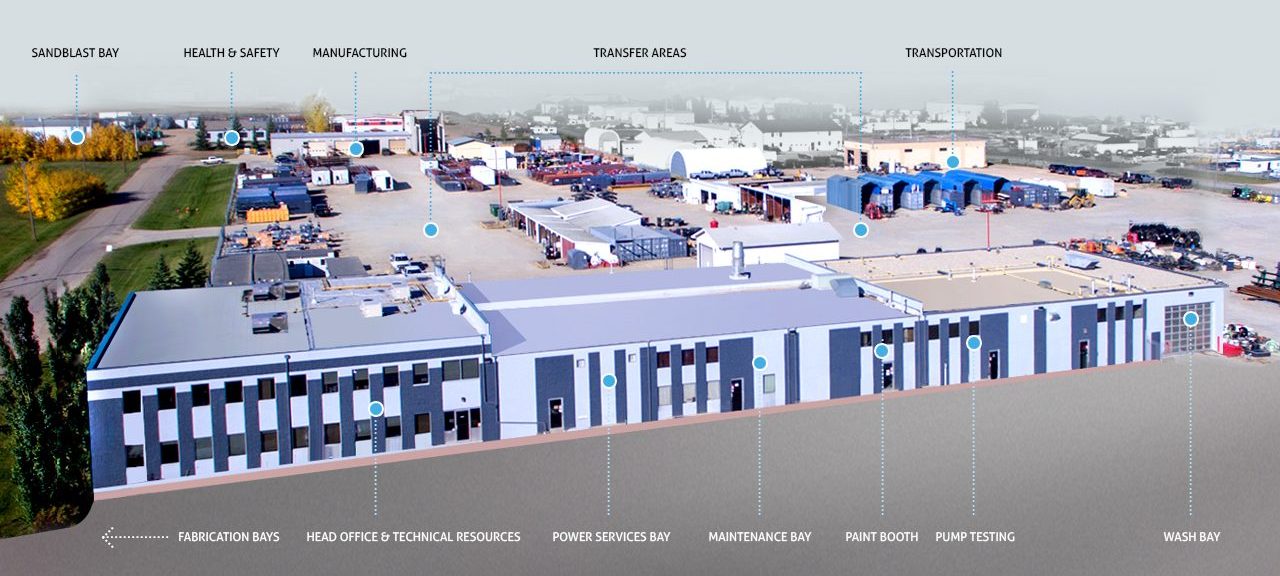 Ketek's head office is on 184 Street NW in Edmonton and our Operations Centre is on 28 acres of land a few kilometres to the west, within minutes of the major transportation arteries of the Anthony Henday Drive ring road and Highway 16 (Yellowhead Trail).
Our Operations Centre brings together the breadth of expertise that makes Ketek a unique business partner. We have the experienced management, technical expertise, breadth of tradespeople and facilities to provide our clients with solutions to real-world problems, from start to finish.
Our assets include ISO 9001:2015 certified manufacturing and maintenance facilities. We have a 7,700-sq-ft fabrication shop, a dedicated, 1,200-sq-ft, air-pressurized painting booth and a 5,000-sq-ft sandblasting bay. We have state-of-the-art pump testing capabilities that allow us to ensure the equipment we sell and rent can do what we say it does. Finally, we have space to service and manage our 9,000+ pieces of major rental equipment.
From Edmonton, Ketek provides all of its services and equipment, including rentals, oilfield and oilsands services, water management, power services, manufacturing, maintenance, transportation and safety services.
Now with more than 400 employees, Ketek has worked with companies throughout the upstream and midstream oil and gas sectors. We have worked in the oilsands and in the mining, forestry and agricultural sectors. We have worked for municipal, institutional and international clients and for the armed forces. We provide facility site services and have acquired distribution rights with suppliers of specialized equipment.
The head office supports the branches with resources and expertise, allowing Ketek to be a trusted provider of our services and equipment across Alberta, Saskatchewan and northeastern B.C.
Address
Head Office
10457 184 Street NW,
Edmonton, AB, T5S 1G1
Edmonton Operations Centre
20204-110 Avenue, NW
Edmonton, AB Canada, T5S 1X8
Office Hours
Monday-Friday: 8am – 5pm
Saturday, Sunday: Closed