Ketek welcomes Compass Towing
to the fold
Compass is Fort McMurray's best and most reliable towing service,
and we look forward to building on that tradition
September 10, 2019
Fort McMurray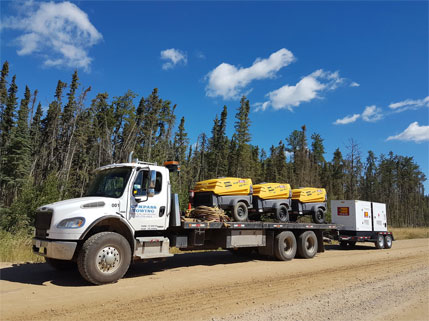 Compass Towing provides flatbed towing services, heavy hauling, parts delivery and more. Towing services are available 24/7.  
Ketek is pleased to announce that it has purchased Compass Towing, which has, over the last four years, become Fort McMurray's best and most reliable towing and roadside assistance company. Compass has provided tow-truck services to thousands of customers and has developed expertise that can be applied to all kinds of circumstances. Client satisfaction is Compass' number-one goal, and Ketek aims to maintain that standard.
"This company has such a great record and fits so well with our current services that we couldn't pass it up when it came up for sale," says Jason Abel, manager of Ketek's office in Fort McMurray. "We look forward to maintaining its quality of service and growing it as we can."
Compass has serviced customers in every part of the RM of Wood Buffalo under all kinds of weather conditions. Compass performs basic and complex towing services including vehicle pick-up and delivery, freight delivery, equipment delivery, parts delivery and C-can pick-up and delivery.